Syangja farmers elated with increase in orange production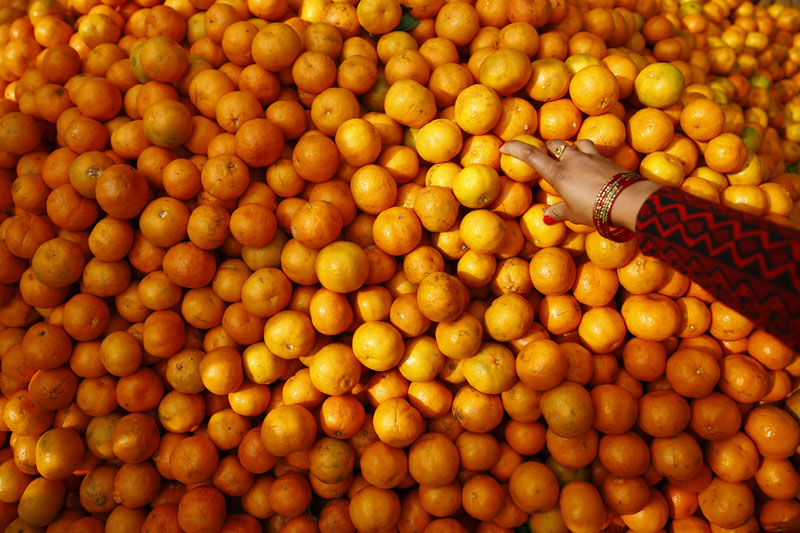 Tolakanta Bagale/RSS. Orange production has increased in Syangja this year. The district produced 22,500 metric tonnes orange this year, the Agriculture Knowledge Centre, Syangja stated. The farmers have been enthused with the production growth with orange farming becoming a viable means of livelihood for them in recent days.
Chief of the AKC Syangja, Binod Hamal said the district produced orange worth more than one billion rupees. According to him, the district exported oranges worth Rs 570 million last year.
"The production rate this year is 15 metric tonnes per hectare. It was 10 metric tonnes per hectare last year. The increase in orange production is 5 metric tonnes per hectare compared to the previous year," Hamal said.
Orange orchards cover 2,000 hectares area in Syangja. Hamal, the AKC Syangja Chief, claimed that Syangja district has the largest area of orange orchards and the highest production throughout the country.
Oranges are being sold at Rs 65 per kilogramme. Its price was Rs 50 per kg in the last week of October.
Phani Narayan Aryal, an orange trader of Thapathok, Arjun Chaupari rural municipality-1, said he earned up to Rs 5 million by selling oranges. His income from orange trade last year was only Rs 2.5 million.
"We have got a bumper orange harvest this year. There are so many fruits on a single bough that we have to provide support to it," Aryal said in excitement. There are 2,000 orange trees in his orchard. Aryal has installed a grading machine at his farm and he has been supplying the fruits to the market fresh from the orchard.
Lekhnath Kafle of Phutedhunga, Waling-2, made an income of Rs 200 thousand last year by selling oranges. He estimates that the income this year will be double than that of last year. He said that there is no problem of harvesting the oranges and taking the production to the market as this is all done by the contractors themselves. There are 100 trees in his orchard.
Bhuparaj Bhandari, another orange trader of Galyang Municipality-7 in the district, said he earned Rs 2.2 million last year and is all confident that the earnings from oranges is going to be much higher this year. He sold 31 tonnes oranges last year. He has 800 orange trees in his garden.
AKC Syangja Chief Hamal said the income this year from the sale of orange in the district is estimated to be Rs 1.25 billion. He added that oranges worth Rs 250 million are consumed within the district itself.
The orange production last year was 13,840 metric tonnes. Orange was grown in 1,160 out of a total 1,655 hectares in the district in Fiscal Year 2021/22 and the production was 17,632 tonnes.