That killer mountain which didn't let shed tears of joy even after making a history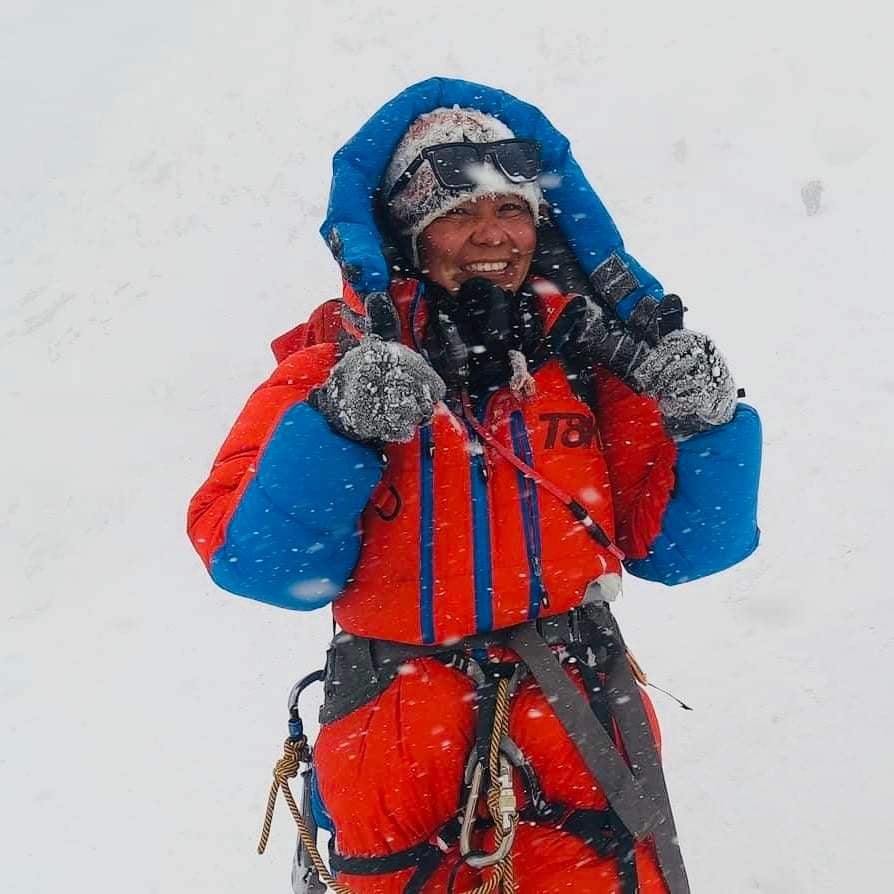 Kathmandu. At the height of 8019 meter, Sharmila Tamang unmasked her oxygen, observed the mountain ranges in front of her and took a deep breath. That was April 16,2021 at 1:53 PM when Tamang along with 6 other women reached the top of Annapurna. It has been a year of making a history of first ever Nepali women to summit Mt.Annapurna.
Annapurna on the other side is also known as "Killer Mountain". Tamang had already climbed world's top Mt.Everest before this. She still remember the time when she cried out of excitement while she was on the top. But this time it was different. Even after a painful journey her eyes weren't wet.
When she reached camp 2, she started menstruating. This is a high time a women's body need to rest but she was not in a position to seek rest. She accepted the way it came her way and completed the journey.
In her experience, Annapurna was more technical than other mountains in Nepal. High risks of avalanches, slippery blow ice made it all a very challenging journey.
All these difficulties made her harder to cry in excitement even after reaching the peak. On top of that, she had a fear of returning back safely. "I doubted about getting back home safely. Most of all, I was missing my son because of the fear. That is the reason why there were no tears of joy," she said.
She had heard a lot about Annapurna before going on the ascent. "There is a reason of calling it a killer mountain," she added, "I didn't even urinate for 18 hours for fear of safety."
Earlier, when she went on a climb, she used to deceive her 6 year old son so that he wouldn't worry. But this time, her son bid her a farewell. In her overall journey she had a confusion of perhaps returning or not returning home. She missed her son quiet much this time.
She said that there was no chance of opening the safety gears because of the frequent avalanches. She was accompanied by Pasang Lhamu aka Akita and Maya Sherpa. Tamang thought that she was the only one to miss the baby. But when she found out others like her in the group, she hugged Pasang and Maya and all three of them cried together.
She went to climb Lotse right after returning back from Annapurna. The same month of returning from Annapurna. When asked about the essence of getting back to the mountains frequently, she says, "This  has been a kind of intoxication now. If I can't go on one season, I feel desperate."
From an early age, she was interested in connecting with nature and doing adventures. Her father was a tourist guide. While staying at staying at home during the off-season, when tourists do no come, her father used to gather five children and share his experiences. He used to take his children to the every nook and corners of the country through the stories of his own experiences. When she heard her father's experience, she immediately felt like like jumping in the mountains. As a result, she started working as a porter at the age of 17. This made her a tourist guide and even a mountaineer.
It has been five years since he started climbing the mountain. Due to her father's support, she had been working as an independent guide before her marriage. She says that she got to know the real attitude and behavior of patriarchy towards women only after she got married at the age of 23.
One year after the marriage, she became the mother of a son. When her son was just a year old, she started working as a trekking guide and started planning to climb the mountain. She was determined to make her career in the field of mountain. But her marriage was jeopardizing her career. As a result she got a divorce and set out to achieve her goal.  Since then, she has been active in mountaineering.
When her son was one year old, she started climbing mountains up to 6,000 meters inside Nepal. This series has competed a cycle of 5 years. In the meantime, she has climbed Mt.Everest, Manaslu, Lotse, the highest peak in Europe, Elbrus(5642m) and many other mountains upto 6000 m.
She says that from this experience, she became addicted to the mountains. Although mountaineering is considered as an adventure, she denies that women are less likely than men to climb the mountain due to their physical infirmities. He says that mountain won't discriminate against women and men. "We are not inferior to men. Our walking abilities are the same. The only difference is, they can carry heavy loads, we can't."
Tamang is currently busy with her 14 peak project. In the next two years, she is aiming to climb 14 mountains above 8,000 meters. After climbing four peak above 8,000 m she left Sunday for climbing Mt. Kanchanjunga.