World Bank to provide loan of 150 million USD for financial sector consolidation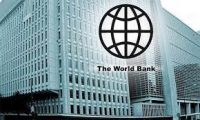 The World Bank is to provide a loan of USD 150 million (approximately Rs. 18.36 billion) to strengthen the financial sector of Nepal.
The loan under the title of Finance for Growth and Development Policy Credit is being provided to help diversify financial solutions and increase access to financial services in Nepal.
A bilateral agreement to this end was signed here on Wednesday by Finance Secretary Madhu Kumar Marasini and World Bank Country Director for Maldives, Nepal and Sri Lanka Faris Hadad-Zervos, on behalf of the World Bank.
Speaking on the occasion, Finance Secretary Marasini said that the major priorities of the country at present are guided by the objective of achieving sustainable and inclusive growth, as reflected in the Financial Sector Development Strategy (2078-2082). The strategy focuses on addressing the risks of COVID-19 and climate change, as well as bringing digital payments and financial inclusion into the mainstream," he said.
The support is expected to help supervision of the banking sector to address the risks of financial stability in the face of the COVID-19 epidemic. It will also help open up capital, insurance, and disaster risk financial markets and promote the latest financial services.
It will also support initiatives to increase the liquidity and inclusion of the economy through access to external business lending, financial digitization and financial literacy for women. The project will also help improve the functioning of the financial sector.
The project will support Nepal's green and inclusive growth as well as launch a new climate agenda by supporting climate finance upliftment policies in various sectors.
Country Director of the World Bank Zervos expressed confidence that the project would further contribute to the government's policies and priorities to mitigate the adverse effects of the epidemic by supporting the financial sector reforms with an expanded climate-resilience agenda in the financial market.