We need MPs who have a vision and are ready to accept criticism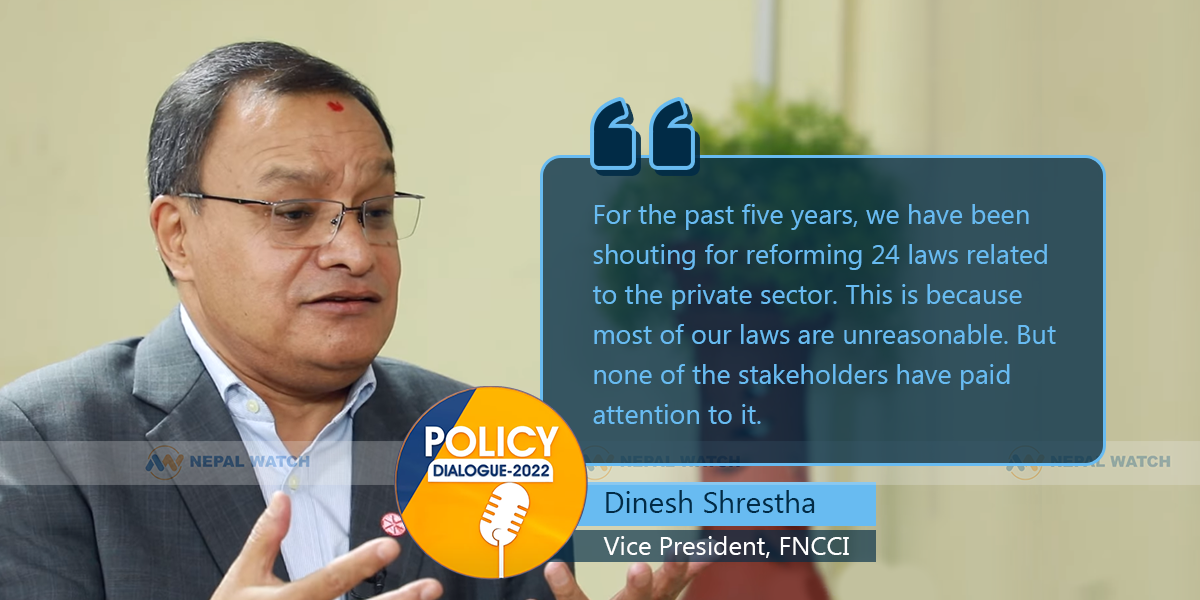 Kathmandu. For more than 20 years our industrial sector has been in chaos because of inapt policies. Because of this challenging situation, our production is gradually declining. I will discuss the policies, lawmakers, PMs, and employees who have become obstacles to the development of the industrial sector. Likewise, I will discuss the kinds of PMs we need for policy initiatives to help us save from all these problems.
There are numerous problems in the industrial sector. Among them, more problem lies in policy ambiguity and the government structure that implements the policy. It is the MPs who will address the difficulties in policies as they are lawmakers.
The industrial uprising that took place after 048 BS and the kind of facilities that were given to industrialists were modified and nullified with an illiberal thought.
This is why industrial production has decreased. No one is worried about the decrease in production. Now we have to bring such parliamentarians who understand the economic policy. People should elect MPs who respect the taxes they pay. Along with that, we need MPs who can respect those who can increase the wealth of the state.
Parliamentarians should understand our sovereign right to raise taxes. People are tormented by the attitude that elected people are free to do anything for five years.
There is a situation where you have to choose a candidate from among those who have given candidacy. I am surprised, after issuing the whip in the parliament, the bill itself becomes insignificant.
Policy and law should be supportive, however, we draft laws and policies to control. Legislation is to be made for the benefit of consumers. In the past, the industry's contribution to the country's economy was 14 percent, but after the introduction of such laws and policies, the contribution has dropped to 5 percent. Will the Ministry of Industry take responsibility or not? But in Nepal, there is a tradition of taking responsibility for good deeds and blaming others for bad deeds.
As the production of agriculture is decreasing day by day, will the Ministry of Agriculture be accountable for this or not? Therefore, the slogans of leaders are not enough. It is necessary to bring people with new ideas into decisive positions. The government should ensure to all the citizens that the government has control over education and health and also ensure that the works of the government are easy and effective.
If an elected person becomes a minister tomorrow the voters have to look for him if they face health or education problems. How long will you go through this situation? Therefore, our parliamentarians should now start developing the system.
For the past five years, we have been shouting for reforming 24 laws related to the private sector. This is because most of our laws are unreasonable. But none of the stakeholders have paid attention to it. For example, there is a law that states, if a person from Olangchungola does not register the weighting scale within 35 days after buying it he/she will be imprisoned for 6 months and fined Rs 50,000. What are the results of such a wrong and unenforceable law? Should MPs take responsibility for this or not? Some businessmen have even committed suicide due to such impractical laws.
In every speech delivered, the leader primarily focuses on the topics of job creation, economic development, infrastructure development, and opening of industries. But once they are elected as MPs, they can't even consult with the relevant experts about what they don't understand. This is because they feel an 'inferiority complex' to discuss it with someone who better knows about it. It is necessary to debate the drafted law with the team of experts once it has reached the parliament.
After one wins the election, the belief is that they know everything. On the other hand, with the victory in the election, they started maintaining distance from the people. The general public should pay attention to such matters. We need people who can listen to criticism. Only then he learns from his mistakes.
Time and again, we also participate in discussions with MPs about the problems in the industry sector. However, there is no obligation for them to be accountable for our questions.
On the other hand, people also tend to accept to do anything in a foreign land however, they don't want to do anything in the country, and this tendency should be changed. Going abroad is not a problem.
The MP should discuss with the experts of the particular sector and draft laws if there are problems regarding job creation and leading the country towards a prosperous path. Unlike now, the people should be assured that the education and health services provided by the state are accessible.
After being elected as MP they are worried about becoming a minister. As soon as he or she becomes a minister, he/she starts calling the secretaries to work in favor of his/her people. Therefore, there are no good leaders but party cadres.
A leader should have forethought about how to lead the country for the next 15/20 years. However, in Nepal after winning an election they start earning money to win the next election. What I want to say is, let us elect such a person who will give us a vision in 10/20 years. We need leaders who can provide nets, not fish.
In the field of industry, the problem starts from business registration itself. To 'break through the reforms, we have prepared a list of what needs to be improved to create a better environment, from registering businesses to creating a comfortable working environment. At present, there is a tendency of copying and pasting the laws by the provincial government that are drafted by the central government. Because of this, the registration and cancellation of industries have become complicated. Such works should be carried out easily.
Similarly, another area that needs to be improved is the scope of taxes. The tax rate should be reduced and there should be an environment where taxes can be paid easily. No businessman should be forced to pay bribes to pay taxes.
Before the election, the leaders promise that they will do anything for the public. Do not vote for such leaders who take the time to insult the other party during their speech.
We are expecting an enabling environment rather than economic development. The cost to set up a business is expensive. As costs increased, competitiveness decreased. On the other hand, the businessmen here are suffering due to the illegal arrival of goods from the open border. Hence, importing illegally should be prevented.
Here, it is easy to do the wrong thing, but difficult to do the right thing. Even though some policies are good, it is difficult to implement them. Let's look at an example of importing goods. There was no discussion with us while importing was banned. If the import of goods is to be stopped, it is necessary to pay equal attention to the growth of domestic production. Adopting a single policy is enough for this.
If someone manufactures goods within the country, it should be stipulated that the rate of tax on it should be reduced no matter what party comes. If the leadership takes such a stand, there will be no problem with an investment.
If someone opens a shovel industry in Butwal, he/she will have to pay a 35 percent customs duty to bring raw materials for it. Importing the same goods (end product) into Nepal requires only a five percent customs duty. No one is concerned about promoting one's goods. Prohibiting importation is said just for the sake to speak. To address such problems, we need an appropriate MP.
(Edited part of the statement made by Dinesh Shrestha, the vice president of the Federation of Nepal Chamber of Commerce and Industry, in the debate on 'what parliamentarian should be like? in Nepalwatch's television presentation 'Policy Dialogue 2022')
Here is the full video link