We don't need a leader who keeps saying our country is poor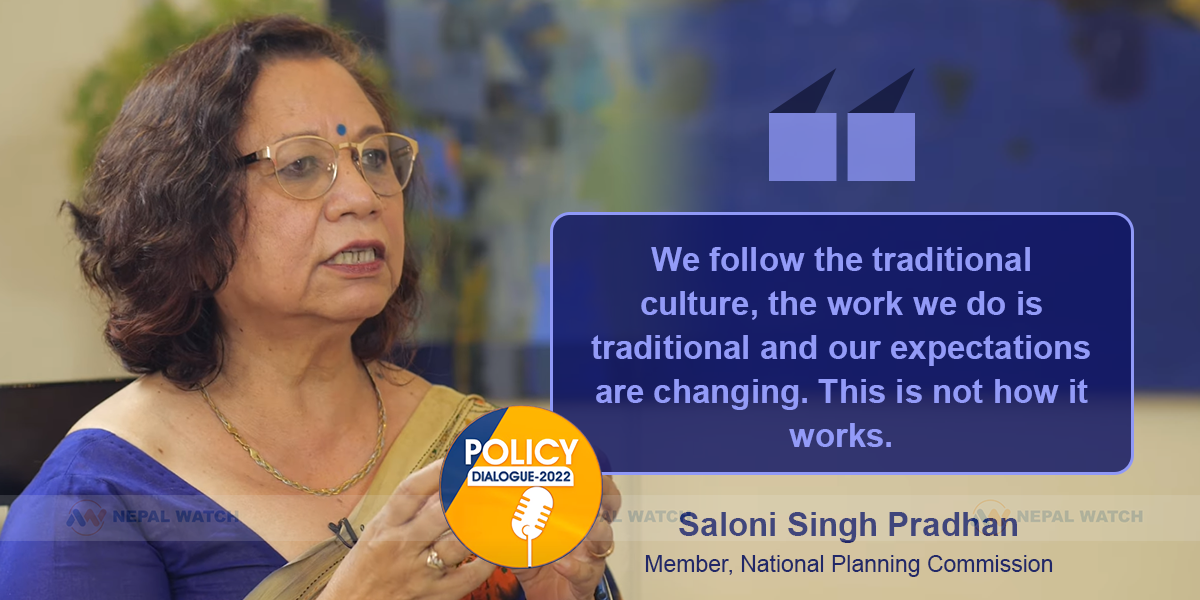 Kathmandu. Numerous questions have been raised regarding the participation of women in the federal and provincial elections which was held on 20 November 2022. Only 9 percent of women gave candidacy in the election, which drew many people's attention. It is not the structure, but our attitude and culture that are responsible for the under-representation of female candidates in elections.
For the transformation of any society, three things are indispensable. They are behavior, attitude, and culture. I am not saying this out of assumption but as a socio-economist. Knowledge is not the only vital subject for social transformation. If it was, we would have progressed much more ahead than we imagined.
Everyone here thinks they are experts. However, we lack subject experts. Although everyone has access to information, we could not bring about changes in trends and culture. This is the reason why there is a lack of economic and social transformation among women. As long as we remain stuck in tradition, we cannot leap from the present situation. promoting women is not a structural problem but a mental one.
Changes were made in the system to significantly increase the participation of women. One of the reasons for adopting the proportional system was to increase the participation of women. We know that there should be an egalitarian and inclusive society for the advanced and sustainable development of society, which is written in the constitution. But unfortunately, this understanding did not work in practice and behavior.
For gender equality and inclusive development, cultural change is a must. We follow the traditional culture, the work we do is traditional and our expectations are changing. This is not how it works.
Although significant efforts were made, it has not been able to change significantly. Whether it is government or political parties, all of them should bring about a radical change in the traditionally entrenched trends. The question is not only about women and men. Let's look at the situation of gender minorities. The constitution has spoken about their presence. But his existence has been completely ignored. The presence of women in the state bodies is small, if not their presence is almost zero.
For the empowerment of women, it is necessary to bring capacity-building programs as per their needs. Such programs are inevitable to empower women politically and enable them to work outside the boundary of the party in the future. The National Planning Commission is also working to bring such inclusive programs.
The commission also has a similar structure as the parties. There is always a woman on the commission to discuss large projects. In some commissions, there are only men. There is also a common mentality that all women should see the issue of justice. The Commission's sensitivity towards these issues has increased more than before.
The commission is now launching the concept of the 16th periodic plan. We are working to bring some changes to it and fill the existing 'gap'.
Think Tanks, Parliament, and the Commission should go together in the process of policy-making. In some cases, the commission itself has to go and 'orient' the parliamentarians and explain issues they are not acquainted with. But there is no harmony between the policy and its implementation. Due to political obstacles, they are not able to show the work.
Elections are the solution to all these problems. Therefore, there is a need to have an all-round debate for identifying and electing suitable parliamentarians. The Commission itself needs to give a message to the people about what kind of parliamentarians should they elect.
Federalism is gradually rising from its early stage. Several issues are contradictory within the three levels of government. Currently, we are now trying to establish coordination among all three levels of government. Hence, it is important to address all these issues. Furthermore, we would like to apprise that it is key to choose the right candidate regardless of gender, for smooth development.
In the next general election, it is important to elect a person who knows the country well and has a clear vision. This is because the MPs are responsible for drafting policies and also to form the government that implements those laws. There is immense potential in every sector of our country. But we always keep saying that our country is poor. We don't need such people who keep saying our country is poor. Rather, we need such parliamentarians who can recognize the possibility and give a different perspective to the country.
We are gradually making leaps in physical development. But physical development alone is not everything. Social and physical development should go together otherwise it can create a bigger gap. "Intersectionality" must be recognized in course of development. In the past, the interconnected nature of social categorizations was isolated. Now, 'youth' or 'woman' should be addressed at all levels, then we move towards healthy and sustainable development.
(Edited part of the statement made by Salone Singh Pradhan, a member of the National Planning Commission in Nepalwatch.com's television presentation 'Policy Dialogue-2022')