Ruling alliance for addressing national needs: Prime Minister Deuba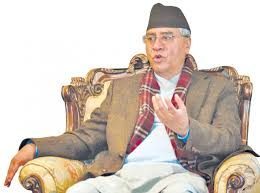 Prime Minister and Nepali Congress President Sher Bahadur Deuba has said that an alliance has been forged between the ruling political parties to address the contemporary needs of the nation.
Addressing a mass meeting organized by the Nepali Congress Morang Committee here today, he appealed voters to vote in favor of a win of the coalition candidates in the May 13 local level elections.
On the occasion Prime Minister Deuba clarified that he became the Prime Minister with support the parties joining the alliance. The alliance was formed to bring the fruits of democracy to the villages.
Expressing commitment that the Nepali Congress would not betray anyone even if it was betrayed, Prime Minister Deuba said that if the next government is formed by the Nepali Congress, people above 65 years of age will be given senior citizen allowance.
Senior Nepali Congress leader Ram Chandra Poudel said that the Nepali Congress government has laid special emphasis on education and health.
Central member of the Nepali Congress Dr Shekhar Koirala said that the local level elections would not have much impact on the government but would have a big impact on the upcoming state and federal elections. He also urged the local level cadres to work hard to win their candidates for the success of the federal and state elections.
On the occasion, Mayor candidate Nagesh Koirala of the Nepali Congress and deputy mayor candidate Amarendra Yadav of the Janata Samajwadi Party said that they would spare no effort for the development of the city if they were elected.