NIMB bags the prestigious EUROMONEY– Awards for Excellence for the third time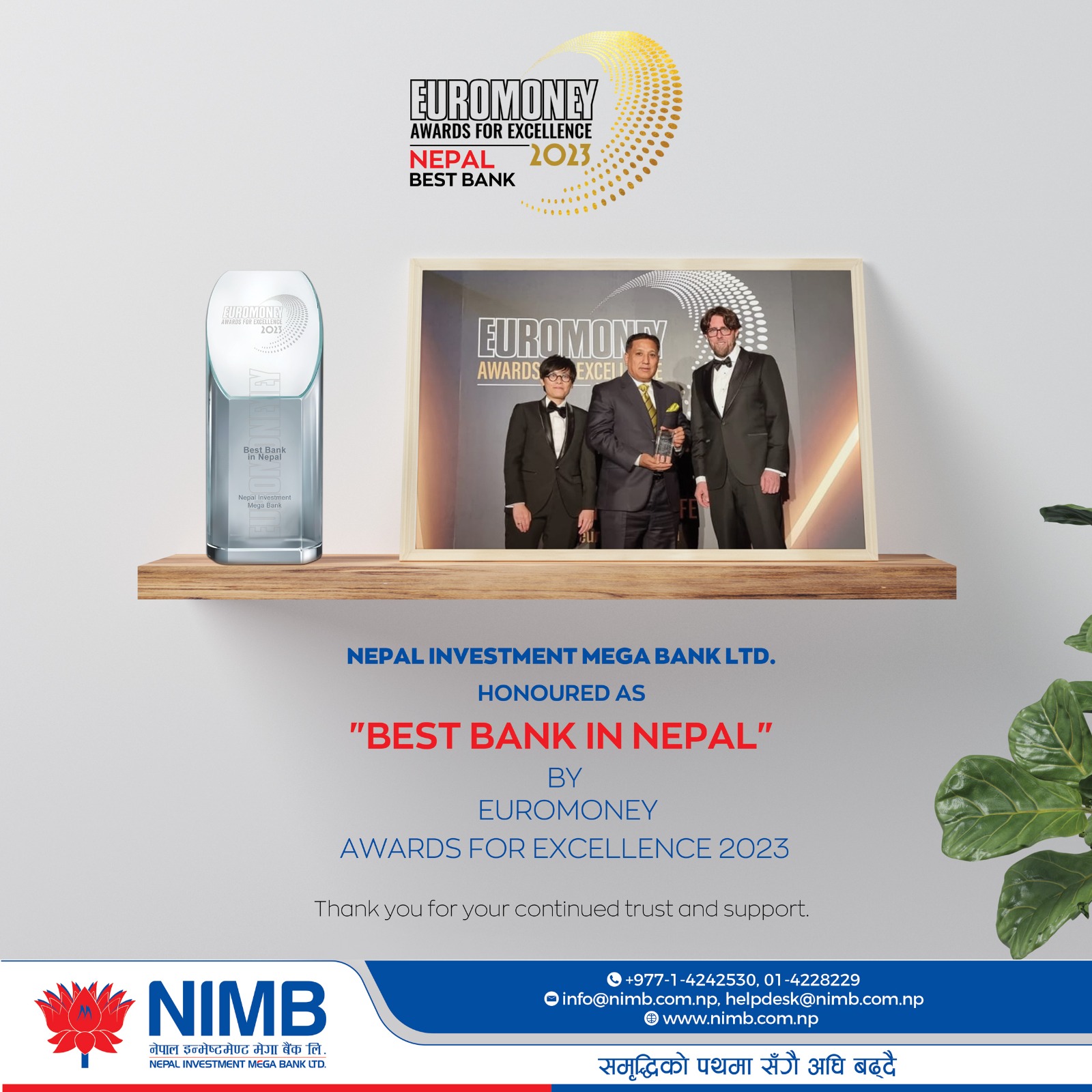 Kathmandu. Nepal Investment Mega Bank Limited (NIMB) is honoured to have won the "Best Bank in Nepal"
at the Euromoney Awards for Excellence 2023. Euromoney is a British based esteemed international financial publication.
This is NIMB's third time receiving this prestigious accolade having won it on two previous occasions (2018 & 2021). NIMB has bagged this award on the basis of its performance and strategic growth throughout the year. By providing tailor-made products and services and branchless banking to its clients, NIMB has been credited by Euromoney with
ramping up financial inclusion throughout the country.
Providing loans at a concessional rate to ex-Army personnel, servicemen and their families, through the Deprived Sector Lending program, is another reason why NIMB has been awarded this year, as stated by Euromoney on their official website.
The Bank's Paid-up Capital stands at NPR 34.12 Billion, and has one of the strongest financial standings amongst the Nepalese commercial banks, with the highest Shareholder's Fund of NPR 59.95 Billion in the country. NIMB has been catering to its 3 Million+ valued customers from 296 Branches, 280 ATMs, 62 Extension Counters, and 107 Branchless Banking Counters.
The Bank, being the recipient of 7 'Bank of the Year' awards for exemplary service and business, is an ISO
9001:2015 certified Bank with Credit Rating 'A' from ICRA Nepal (International Credit Rating Agency- Nepal).