NC's victory needed for prosperous Nepal: Gagan Thapa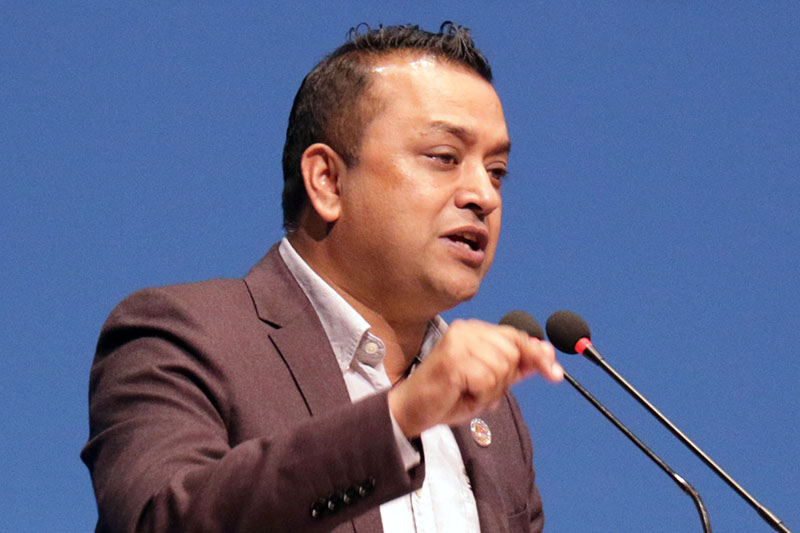 Kathmandu. Nepali Congress (NC) general secretary Gagan Kumar Thapa has said a victory of Nepali Congress in the upcoming local elections was necessary to realise the dream for a prosperous Nepal.
Thapa who is also the coordinator for the NC local-level elections manifesto drafting committee argued that time demanded the NC leadership for facilitating for the effective enforcement of the citizen's fundamental rights guaranteed by the constitution, for the establishment of a rule of law and for proper utilization of available resources.
He was speaking at a discussion program organized by the Democratic Thought Society today, focusing on the party's resolution in view of the May 13 local elections. The former Minister claimed that the next five years would not be frustrating as the last five years if the party won the elections.
"We will not let recur such situation as we have a clear vision about what should be done in the next five years. The NC is determined to prevent the misuse of resources and to promote the good governance and transparency. The upcoming decade will be the decade of the job creation and the NC aspires to properly utilize agriculture, tourism and energy resources, and to grab opportunities of ample employment generation. We aim to create 500 thousand jobs each year," the leader said eloquently.
Society chair Dr Kedar Narsingh KC said the party's election resolution is its guidelines and the party is expected to build atmosphere enabling the freedom of expression and opinion, the core values of democracy.
Society vice chair Kulchandra Wagle insisted on the NC leadership to what he argued make the local government systematic, transparent and people-friendly.
Journalists Dr Suresh Acharya, Bishnu Nisthuri, Dharmendra Jha and rights activist Indra Aryal were among those who urged the party to further contribute for strengthening constitutional supremacy, press freedom, rule of law and the people's rights.