NC President Deuba warns of taking action against rebel candidates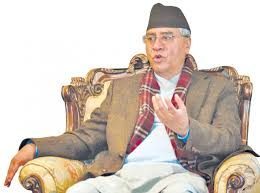 Nepali Congress President and Prime Minister Sher Bahadur Deuba has said that the NC would take action against rebel candidates if the party suffers defeat in the election.
Addressing the election rally organized at Dhangadhi on Monday, he urged the rebel candidates of the party to withdraw their candidacies and help make the official candidates victorious.
On a different note, the NC President argued that as the constitution has not given authority to the Prime Minister to dissolve the parliament without a valid reason, he along with CPN (Maoist Centre) chairperson, Pushpa Kamal Dahal, the then leader of the CPN (UML), Madhav Kumar Nepal, protested against the act of then Prime Minister KP Sharma Oli to do so without any reason.
"The CPN (UML) has not allowed the parliament to function even after it was reinstated. It will again dissolve the house if it wins the election. So the five-party alliance should win all upcoming elections."
Saying Sudurpaschim Province is very important for him, President Deuba expressed commitment to do his best for the development of the province.
Similarly, CPN (Maoist Centre) Chairperson, Pushpa Kamal Dahal, said that the five-party alliance has saved the country from a mishap, adding the new era would be started through the existing alliance maintaining stability in the country.
He mentioned that top leaders of the ruling coalition parties should be aware as elements plotting conspiracy to split the alliance by creating dispute and misunderstanding among the top leaders are active.
Saying the alliance was formed to protect the political achievements and people's rights gained from a huge sacrifice, the CPN (Maoist Centre) Chair Dahal urged the voters to make the common candidates of the alliance victorious in the upcoming elections.
Likewise, Vice-Chairperson of the CPN (Unified Socialist), Pramesh Hamal, Joint-general secretary of the NC, Farmullah Mansoor, NC central committee member Dr Arzu Rana Deuba, mayoral candidate of Dhangadhi sub-metropolitan city and NC central committee member Nripa Oda, among others also expressed their views.
NC President Deuba welcomed the independent mayoral candidate of Dhangadhi sub-metropolis, who has supported mayoral candidate of NC, Oda.