Home Minister directs not to let any stone unturned for fair election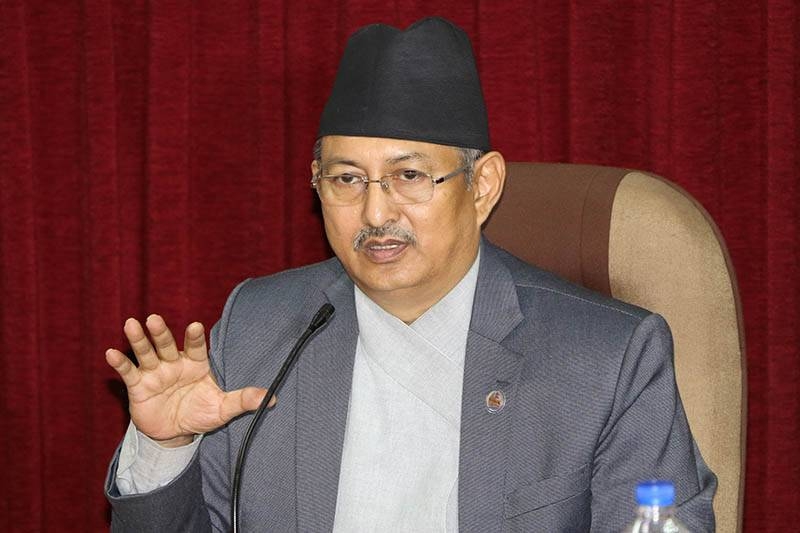 Kathmandu. A meeting has been organized at the Home Ministry today to discuss on the possible security challenges regarding local-level election.
The election security seminar chaired by Home Minister, Bal Krishna Khand, discussed on how to hold local-level election in free and fearless manner by resolving the possible challenges in the election.
Province-level presentation was made in the seminar organized virtually. On the occasion, Minister Khand directed security bodies to hold local-level election utilizing the available means and resources in a free and fearless manner.
Asking the office-bearers and members of security committee of the center, provinces and districts, he urged them not to let any stone unturned in security management in order to hold the local polls peacefully.
The Home Minister also directed the chiefs of the security bodies to keep in priority to temporary police personnel recruited for local-level election while recruiting at security bodies in coming days.
The government has recruited 100,000 temporary police personnel for the local polls. He further said that the preparations for the security made so far in the districts regarding election utilizing limited resources is commendable.
Stating that election's security and fairness was the main goal of the government, secretary at the Ministry of Home Affairs Tek Narayan Pandey instructed the concerned bodies and authorities to work accordingly.
Present in the virtual seminar were secretary Pandey, Lieutenant General of Nepali Army Balkrishna Karki, Nepal Police's IGP Shailesh Thapa, Armed Police Force's IGP Pushpa Ram KC and National Investigation Department's chief Yadulal Kharel among others.
Also, the meeting was also attended by the officials of all district security committees and chiefs of the provincial security agencies.