GBIA marks first anniversary but yet to come into full operation, adding to private sector's worry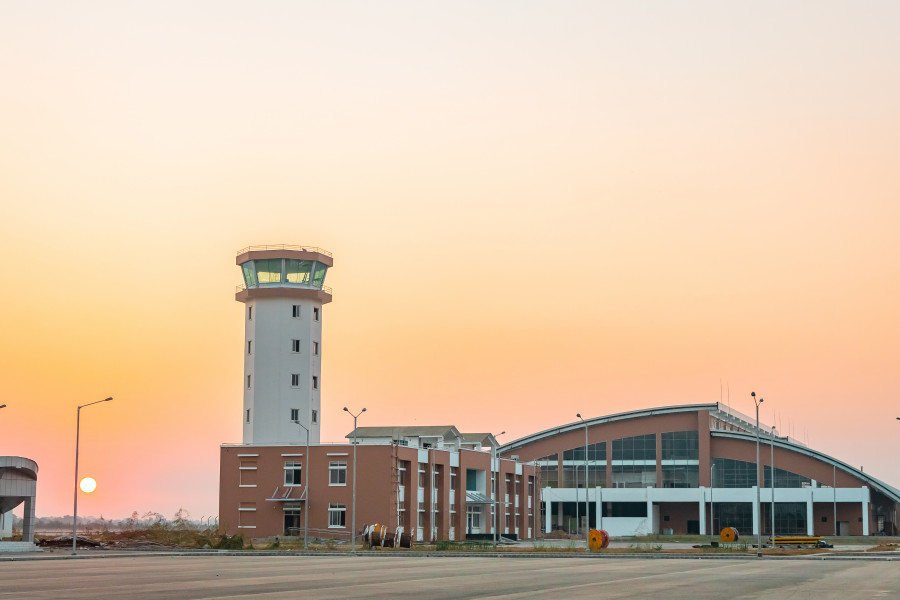 (Bharat KC/Radheshyam Bishwokarma)The Gautam Buddha International Airport (GBIA) has completed its first anniversary, but the second international airport after the Tribhuvan International Airport in Kathmandu, going through setbacks has added to worries of the investors. The private sector has reportedly invested over Rs 60 billion targeting this project.
GBIA has failed to come in full operation. So far, Jazeera Airways has been operating three Bhairahawa-Kuwait flights a week. It conducted a test flight on 16 May, 2022. But now, it has reportedly told about halting its flights to and from the airport.
The private sector invested over Rs 60 billion targeting the airport, said Krishna Prasad Sharma, President of the Federation of Nepalese Chambers of Commerce and Industry, Lumbini. They have invested in hotels, infrastructures, services, trade and tourism targeting the project, he said.
"The mobility of approximately 20,000 people was expected in the area on a daily basis. With this hope, the area has been developed as a trade hub. But now, the airport has not been operated as expected by us. This has only added to our worries. Fears of our investments risks are deepening day by day. Entrepreneurs have no any other option," he said.
He blamed the government for not paying heeds to fully operate the airport. Failure to fully operating the airport has left all of us in the lurch, he complained. India has yet to agree on giving air entry points, as it is reported to be dillydallying on the matter.
However, Sharma is not ready to accept it. "Air entry points and Indian obstructions are only rumours. We are
assured that the Asian Development Bank has invested in the project after taking into accounts all these things. The Government of Nepal should take a leading role to resolve these problems. There is no other alternative to operate the airport. This is our demand with the government," he said.
He suggested that Prime Minister Pushpa Kamal Dahal 'Prachanda' during his upcoming visit to India should strictly take up the matter with India, and take concrete steps in operating the project. "My suggestion is respected PM takes a flight from the airport and he launches a campaign to fully operate Gautam Buddha International Airport."
Millions of rupees of investment at risk
Construction of hotel buildings and infrastructures has taken place along with the building of the airport. Around 146 hotels, big and small, are operational with the investment of around Rs 30 billion. Besides, around 21 hotels are under construction at the cost of approximately Rs 20 billion. "Millions of rupees of investment in these projects are at risk. Entrepreneurs are in tension due to failure to pay bank loans. Some of them have got to the situation of abandoning the business as a result," said Chandra Prakash Shrestha, President of the Siddhartha Hotel Association.
He complained about failure of the state to take initiatives for its operation. "All is well. The airport is also ready. Not only international airlines, Nepali ones should be confident about operating flights from and to the airport." The government should take initiatives to bring in tourists from the countries that follow Buddhism in East Asia through the airport, he stressed.
"We have repeatedly taken up the matter with the Civil Aviation Authority of Nepal, and the Nepal government. We do not know why are demands are yet to be addressed."
Two cable cars in Butwal are under construction with the investment of millions of rupee targeting incoming tourists through the airport. The projects that run three kilometers from Butwal to Basantapur of Tinau Rural Municipality-3 in Palpa district are estimated to cost over Rs 3.5 billion. One station is located at Bamghat of Butwal-3, and another at Basantapur of the Rural Municipality-3. Hotels, a park for recreation, and Kamakhyadevi Temple are under construction at Basantapur hill. A picnic spot has also come into operation.
Air routes not an issue
Hansha Raj Pandey, the general manager of the airport does not endorse an air route problem as reported. "Landing in the airport is feasible and cost friendly, he said. It is easier for an aircraft entering Simara to land in Bhairahawa. Despite long distance, there is not air traffic here than in Kathmandu. Additional costs add when an aircraft holds in the sky. There is not such a problem here."
Routes will be shortened for an aircraft to fly through the L626 Mahendranagar route from Bhairahawa, according to him. `Pilots can also understand this. So, the report that the airport is not properly operating as a result of the air route problem is only a rumour," he said.
Making the L626 two ways will make the airport much feasible, he said. There will be a problem in operating the airport during winter, he said. Visibility issue here is either zero or good. There may be a visibility problem despite landing through the instrument landing system (ILS). "Now, Nepal's airplanes are being landed through the performance-based navigation (PBN). Landing is not possible during zero visibility through the ILS. But, it makes PBN feasible," he said.
Discounts on fees for aviation services for one more year
The airport has been offering 100 percent discounts on fees charged for plane landing, parking, communications and aviation services and security check for international airlines, and this offer has been extended for one more year, said the airport general manager Pandey. The exemption came into operation on 28 May, 2022. Similarly, the Nepal Airlines Corporation has offered 50 percent discounts on fees for ground handling.
Then late Prime Minister Sushil Koirala laid the foundation stone for the airport on 15 January, 2015. Then Prime Minister Sher Bahadur Deuba inaugurated the airport with the investment of approximately 35 billion on May 16 in 2022. Spanning around 800 bighas of land, the project has three kilometers runways. It has capacity to park four narrow-body aircrafts and one wide-body aircraft.
Private sector draws attention of Prime Minister
Entrepreneurs submitted a memorandum to PM Dahal during his visit to Lumbini to take part in an event organised here on 5 May, 2023 on the occasion of the 2567th Birth Anniversary of Gautam Buddha and the Lumbini Day, 2080, demanding full operation of the airport.
A delegation from the Siddhartha Chamber of Commerce and Industry, Rupandehi met with the PM and put forth the demand.
Their demands include PM Dahal takes a flight from the airport during his upcoming visit to India. The Nepal Airlines Corporation (NAC), the flag carrier of Nepal, should start its flights from the airport to attract both other domestic and international airlines, they have demanded.
Their other demands are that the NAC starts flights along Bhairahawa-Delhi, Bhairahawa-Malaysia, Bhairahawa-Qatar at the earliest, and the PM should take initiatives for regular and chartered flights at the airport for all countries in the world that follow Buddhism as Lumbini, the birthplace of Gautam Buddha, is considered to be their air entry points.
Initiatives should be taken immediately to fully operate the airport so as to save the investment of over Rs 60 billion from the private sector in hotels, infrastructures and tourism, they demanded.
No alternative airport
On 26 February, 2023, an aircraft of Air Vistara en route to Kathmandu from New Delhi and another one of FlyDubai from Dubai to Kathmandu were diverted to Lucknow of India after they could not land at the TIA due to bad weather.
Similarly on 24 April, 2023, an aircraft of FlyDubai caught a fire in its engine during a takeoff from the TIA. However, all these aircrafts did not take an interest in diverting to other two international airports, Pokhara and Gautam Buddha Airports.
International aircrafts often gave it first priorities to make an emergency landing or divert to airports outsides Nepal, it seemed. International aircrafts entering Nepal should choose an alternative airport. The Gautam Buddha International Airport should be taken as an alternative airport. But, no international flight has been diverted to it so far, it has been reported.
"We have kept the airport ready 24 hours a day. A workforce has been also managed accordingly. But, aircrafts did not show interest to land here," said Pandey blaming a lack of passengers for their apathy to land at the airport.
"A large aircraft has over 300 passengers. The airline company should reach an agreement with a hotel for the accommodation and food for its passengers. But, in Bhairahawa, as far as I know, there has not been any agreement reached between an international airline and a hotel in this regard," he said.
When an emergency landing takes place in the airport, there arise problems of the accommodation, food for passengers and crews and the conduction of a security check during a takeoff the following day, said experts.
Besides, variations in the prices of aviation fuel in Nepal and India have also made the matter worse, they said. Aviation fuel is much cheaper in India than in Nepal. In Nepal, aviation fuel is sold for 1,360 dollar per thousand litres, and 998 dollar in India. The diverted international aircrafts did not pick the airport to save money, they said.
"It is a pilot's choice to land a diverted plane. We cannot force them," said Pandey. The airport is feasible for diverted international aircrafts than the one in Lucknow in terms of distance and time, he said.
Not only international flights, domestic ones have preferred to divert to Lucknow instead of the Gautam Buddha International Airport.
It requires human resources including engineers for a diverted aircraft to take off. The respective airline company has to manage human resources for this if there is not any agreement to this effect struck with the airlines that have been operating from the Gautam Buddha Airport. As of now, Jazeera Airways has been operating from the airport. So, planes could not be diverted to the airport due to a lack of agreement between these airlines and the Jazeera Airways, said the airport employees. Without the management of a workforce, there involve difficulties and the lengthy process for a diverted plant to take off from the airport, they said.