Drying springs and shrinking streams in Gulmi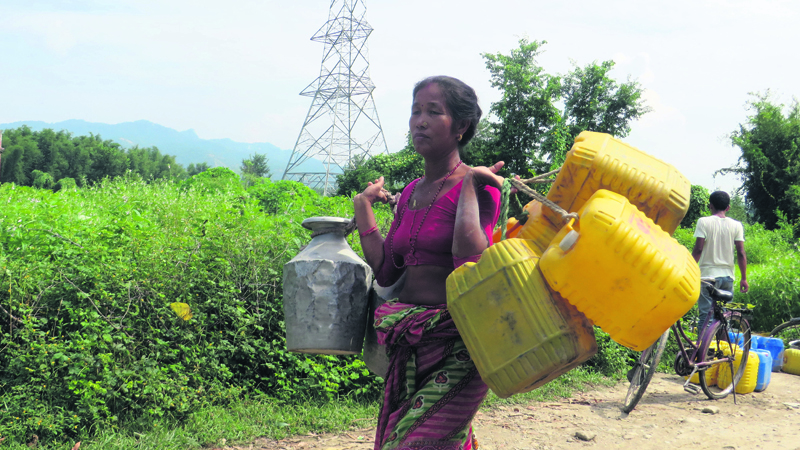 Santosh Mahatara/RSS.Govinda Bishwokarma from Malika Rural Municipality-5 of Gulmi remembers, "There were springs in his own land. In the forest too, there were springs. Although the water volume used to decrease at times, the spring did not fade away so that no irrigation was needed to the paddy in monsoon."
But, now it is difficult to find springs, he added. He was comparing present with the past- back to sixty years.
The deforestation, wild road construction, indifference to conservation of springs and other human activities increased gradually, thereby posing threat to spring.
Similarly, Rudra Bahadur Pun from Malika Rural Municipality-1 shared that the permanent springs have turned occasional ones. It has resulted in short supply of drinking water.
Even in winter season, people could not wade with the Nisti stream before six decades. But, it has now so shrunk that the water is high only in rainy season, a local Dev Bahadur Mahatara viewed, adding that the streams were shrinking after the springs dried up.
Not only Nisti, other rivulets as Chhaldi, Panaha, Ridi and Badigad have receded water level thanks to growing drying up of springs. The upper belt of Isma Rural Municipality has no springs.
Ram Bahadur Khatri from Isma Rural Municipality-4 also argued that wild road construction and deforestation were behind the fading away of springs. The drinking water is supplied from the mountain belt to upper Isma. It has caused dryness in soil as well.
Moreover, 80-year-old Durga Kunwar from Madane Rural Municipality-6, shared that some of the springs were shifted to lower places while some vanished forever while constructing roadways in the upper belt.
Shanta BK from the same locality shared the plight that after the drying up of spring, they were forced to fetch water from distant places.