China makes an objection to US diplomat's visit to Nepal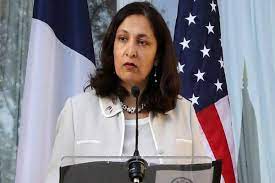 Kathmandu. After the approval of MCC, the American's visit to Nepal is on the rise. Right after the three day India tour, American deputy minister Azra Zia is visiting Nepal. The senior most American diplomat Azra Zia's visit to Nepal is being objected by China.
As per the foreign affairs experts, the issue of Tibetan refugees and human rights in Nepal, have been somehow overshadowed by the Trump administration. It has been assumed that, during the visit of US Deputy Secretary of State Azra Zia, may be given priority. With is insecurity, China is now making an objection about the visit.
After the details of her visit to Nepal and India became public, the International Campaign for Tibet noted that Tibetan refugees in Nepal were at greater risk due to pressure from the Chinese government. The organization said Azra Zia was expected to speak out on the behalf of Tibetans while in Nepal.
Azra was appointed special coordinator for Tibet by President Joe Biden last December. Zia is tasked to find a solution to Tibet affairs by promoting concrete talks between the People's Republic of China and the Dalai Lama.
After being given with that responsibility, she came to India and Nepal for the first time to hold high level talks on issues including Tibet.
Some experts believe this visit should be taken as a reflection of American foreign policy. As human rights are part of American foreign policy.
The then president of the US Donald Trump did not give much emphasis to human rights and democracy.
In recent years, some of the Tibetan officials and Dalai Lama visited Washington DC. But in those past three years no high officials from the US had ever visited the central office of the Tibetan Government in-exile in Himanchal Pradesh.
Concerns are being made after the visit of Azra and Dalai Lama was made public. The Indian newspaper "The Hindu" reported that the Indian government has allowed Azra to visit Dalai Lama in Dharmashala to convey a message to China.